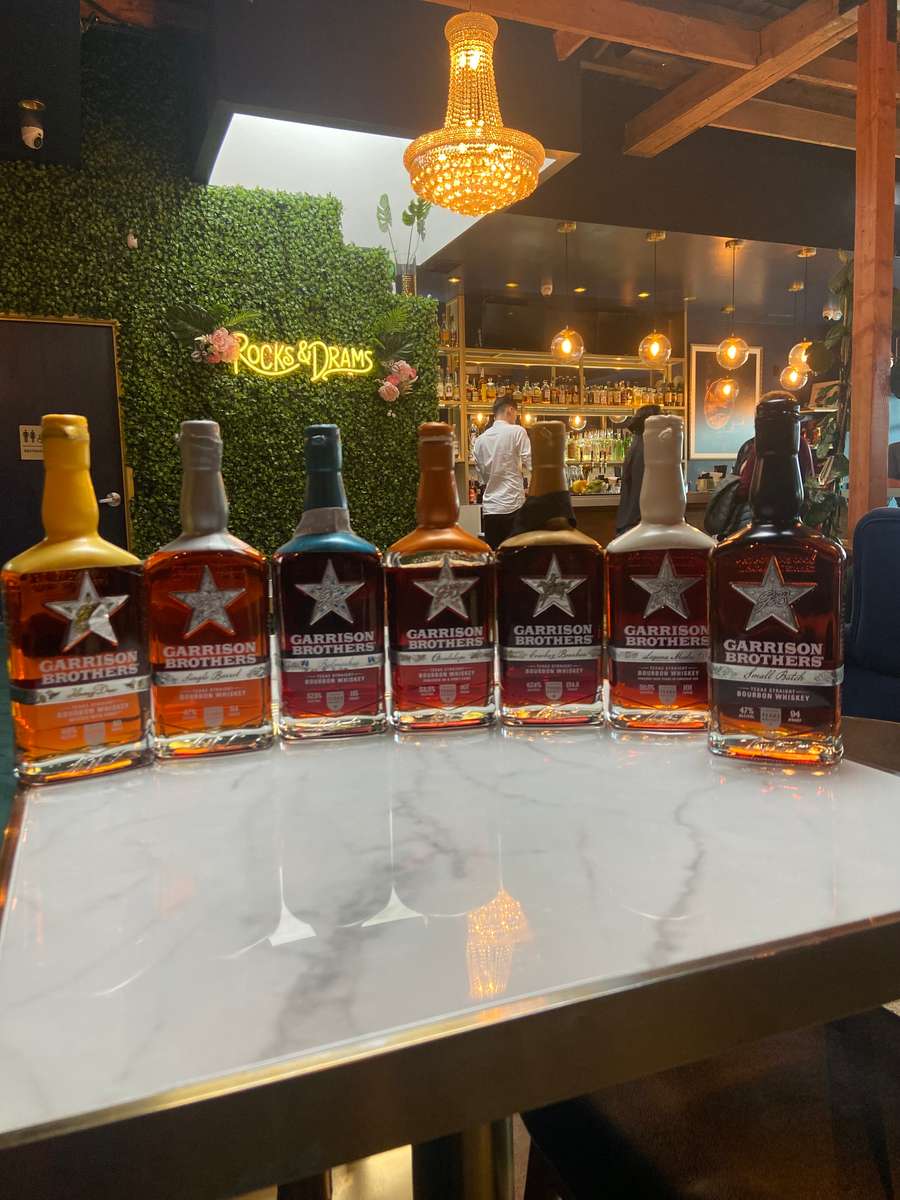 Discover the Unforgettable Flavors of Garrison Brothers Whiskey
Discover the Unforgettable Flavors of Garrison Brothers Whiskey
At Rocks & Drams, we take pride in offering a remarkable selection of whiskeys, and one that stands out is Garrison Brothers. Known for their dedication to craftsmanship and quality, Garrison Brothers Whiskey has gained recognition and a devoted following among whiskey enthusiasts. Let's delve into the specifics of Garrison Brothers and explore why this whiskey is truly special.
1. Garrison Brothers Small Batch ($22 per dram):
The Garrison Brothers Small Batch is an excellent introduction to the brand. Crafted with care, this bourbon showcases a rich and complex flavor profile. With notes of caramel, vanilla, and a hint of spice, each sip reveals the artistry and attention to detail that goes into creating this exceptional small-batch whiskey.
2. Garrison Barrel ($28 per dram):
For those seeking a bolder experience, the Garrison Barrel delivers. Aged to perfection, this whiskey captivates with its robust character and deep flavors. The barrel aging imparts a delightful complexity, offering nuances of oak, dark fruits, and a velvety smooth finish that lingers on the palate.
3. Garrison Brothers Guadalupe ($40 per dram):
The Garrison Brothers Guadalupe is a limited-edition release that embodies the spirit of innovation and craftsmanship. This expression pushes boundaries and tantalizes the senses with its unique flavor profile. Expect layers of rich caramel, toasted nuts, and a subtle hint of spice, culminating in an unforgettable sipping experience.
4. Garrison Brothers Cowboy ($60 per dram):
Prepare for a whiskey journey like no other with the esteemed Garrison Brothers Cowboy. As one of their most sought-after expressions, this whiskey is a true gem. Hand-selected and bottled at cask strength, it boasts exceptional complexity, with bold flavors of dark chocolate, dried fruits, and a robust, lingering finish that leaves a lasting impression.
5. Garrison Brothers Laguna Madre ($70 per dram):
For a taste of pure indulgence, the Garrison Brothers Laguna Madre takes whiskey appreciation to new heights. This limited-release expression showcases the finest craftsmanship and embodies the epitome of luxury. With its velvety texture, notes of caramelized sugar, toasted oak, and a touch of sea salt, each sip transports you to a coastal paradise of flavor.
What Makes Garrison Brothers Whiskey Special?
1. Texas Terroir: Crafted in the heart of Texas Hill Country, Garrison Brothers Whiskey benefits from the unique terroir and climate, resulting in distinct flavors and character that reflect the spirit of the region.
2. Handcrafted Excellence: Every bottle of Garrison Brothers Whiskey is meticulously crafted with a focus on quality and attention to detail. From the selection of grains to the aging process, each step is carefully executed to ensure exceptional taste and consistency.
3. Small-Batch Approach: Garrison Brothers embraces a small-batch approach, allowing for greater control over the production process. This attention to detail ensures that every bottle meets their high standards of excellence.
4. Locally Sourced Ingredients: Garrison Brothers sources the finest local ingredients, including organic Texas-grown corn, wheat, and barley. This commitment to using quality, locally sourced ingredients adds depth and character to their whiskeys.
5. Passionate Craftsmanship: The team behind Garrison Brothers Whiskey is driven by passion and a relentless pursuit of excellence. Their commitment to their craft shines through in every sip, creating a whiskey experience that is truly extraordinary.
Join us at Rocks & Drams and immerse yourself in the world of Garrison Brothers Whiskey. Whether you choose the Small Batch, Barrel, Guadalupe, Cowboy, or Laguna Madre, each dram offers a journey of flavors and a memorable experience. And mark you calendar for the upcoming Master Class: June 19th, 6pm start time, reservations required, $25pp tickets purchased online: Garrison Brother Master Class