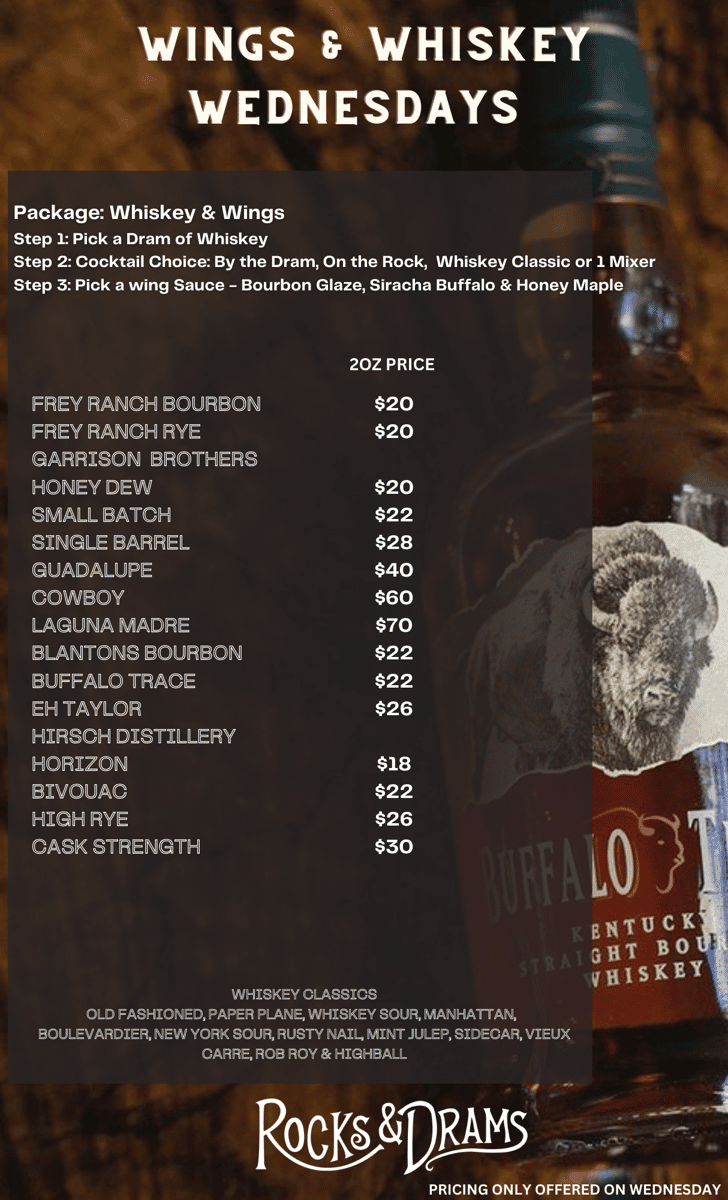 Wings & Whiskey at Rocks & Drams
Whiskey and Wings Wednesdays: A Perfect Pairing at Rocks & Drams
Welcome to Whiskey and Wings Wednesdays at Rocks & Drams! If you're a whiskey enthusiast with a hankering for mouthwatering wings, this is the ultimate midweek treat that you don't want to miss. Join us every Wednesday and indulge in the delightful combination of discounted whiskeys by the dram and irresistible wings that will leave you craving for more.
At Rocks & Drams, we believe that pairing exceptional whiskey with delectable wings creates a tantalizing experience for your taste buds. On Whiskey and Wings Wednesdays, we bring you the best of both worlds – an opportunity to savor premium whiskeys at reduced prices and savor every bite of our delectable wings for only $7 per order.
Immerse yourself in the world of whiskey as our knowledgeable bartenders guide you through a curated selection of whiskeys available by the dram. From smooth and smoky single malts to rich and complex bourbons, there's something to delight every whiskey connoisseur's palate. Discover new favorites, sample rare blends, and expand your whiskey repertoire, all while enjoying the warm and inviting ambiance of Rocks & Drams.
Complementing the whiskey journey are our mouthwatering wings that will take your taste buds on a flavorful adventure. Prepared to perfection, our wings are seasoned with a delicious secrete house sauce. Indulge in the crispy exterior, tender meat, and bold flavors that make our wings a standout dish on our menu.
Whiskey and Wings Wednesdays at Rocks & Drams is not just about the incredible food and drink – it's an opportunity to connect with fellow whiskey enthusiasts, make new friends, and immerse yourself in a vibrant atmosphere. Gather with friends, colleagues, or fellow whiskey lovers as you share stories, laughter, and a mutual appreciation for exceptional libations.
How to Join the Whiskey and Wings Fun:
Joining the Whiskey and Wings experience is easy. Simply mark your calendar for every Wednesday and make your way to Rocks & Drams between 4pm and 10pm. Take a seat, browse our impressive whiskey selection, and place your order for tantalizing wings at only $7 per order. Let our friendly staff guide you through the whiskey options, and prepare for an evening filled with delightful flavors and memorable moments.
Whiskey and Wings Wednesdays at Rocks & Drams is the perfect midweek escape for whiskey aficionados and food enthusiasts alike. Whether you're a regular or a first-time visitor, we guarantee an evening of great company, delectable flavors, and an experience that will keep you coming back for more.